CATTLE FOR SALE

Giles Angus Ranch is offering to sell 60 head of open yearling registered Angus heifers ready to breed this fall. Majority of the heifers are sired by GAR Home Town, GAR Xceptional, GAR Sure Fire, Giles Essence and Giles Magnum. The heifers average EPDs: CED: +11; YW +118; Marbling: +1.30; REA: +0.80; $B: +178; $C: 302.
GET THE COMPLETE LISTING OF HEIFERS FOR SALE HERE >>>
GENETICS
At Giles Angus Ranch, we are focused on producing genetics that excel in calving ease, weaning weight, yearling weight, fertility, docility and carcass value as well as being easy keepers and easy fleshing animals of moderate frame and size. We are striving to produce bulls that will sire females with a mature weight of 1,200 to 1,300 lbs. and that consistently wean more than 50% of their body weight. Efficiency is also built into calving ease relative to increased "breed back" performance, in addition to relative average daily gain, and mature weight versus carcass weight ratio.
Carcass premiums are very important, regardless if you sell your calves at weaning or as feeders. In today's world of technology, every animal's performance is tracked back to the ranch of origin whenever possible. If you are producing calves with $200 to $400 premiums per head on the value-based grid marketing system, the buyer will be back with more and more money as each year progresses. Therefore, it is so important to have a planned genetic program. At the very least, purchase bulls from a genetic supplier like us.
We should recognize that it costs approximately the same to produce a lower performing calf as it does a higher performing one. We must keep in mind the discriminating cattle feeder is rewarded on average daily gain, conversion efficiency and carcass value, which are also main drivers of steer calf price.
Learn more about our reference sire lineup here.
DNA TESTED
In today's age of technology, bovine gene markers have been mapped and are being utilized by Angus Genetics, Inc. That means each one of our bulls and females are tested with an HD50K DNA test, which gives us a gene loci evaluation of each animal in reference to their important economic traits they pass onto their offspring. This includes calving ease, weaning weight, yearling weight, docility, fertility, milking ability and carcass value. In other words, these DNA markers are reflected in the EPDs, which provides a more accurate prediction of how the offspring will perform from a particular bull or female. Don't buy a bull today without them!
MARKETING
As a Giles Angus Ranch customer, we would be happy to assist with marketing your stocker/feeder calves through AngusLink®. This program allows the customer to upload all available data on a set of cattle so that we, as your seedstock provider, can assist you in marketing your calves to our network of premium buyers. It takes a little time and organization to get listed with AngusLink and needs to be done as early in the season as possible. Please call Kelly for more AngusLink program details as well as animal health protocols that will be beneficial to your bottom line. We have buyers who want to buy your calves.
Please compare our EPDs to other programs. You will find you can get the premium service, marketing support and genetic prestige from our program that can cost you twice as much from other competitors. Ranch for profit… ranch with us!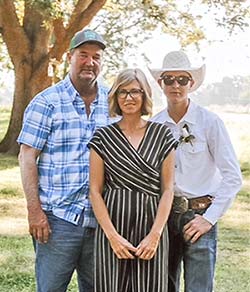 Nathan Allbritton and his family are longtime Giles Angus customers. Nathan and his wife, Lisa, and her son, Kade, ranch along the Red River Valley and operate KLN Cattle Co. KLN runs a sizable commercial cow herd and stocker/ feeder program in Louisiana in addition to their ranch in New Mexico. Nathan has purchased a pot load of bulls from us over the years.
In Dec. 2022, Nathan harvested a pen of their home raised calves, fed at Buffalo Feeders near Buffalo, Oklahoma, and sold them on the grid.
Average Live Weight
1,501 lbs.
Pen's Quality Grade Results
40% Prime
97% Choice or better
The top animal in the group earned a carcass value of $2,920! The average carcass value of the pen was nearly $2,600 per head. The "back to the ranch" gross was more than $1,300 per calf. That's genetic value and cow-calf profitability in action!
For more information, contact Kelly Giles at (806) 655-5800 or email him.